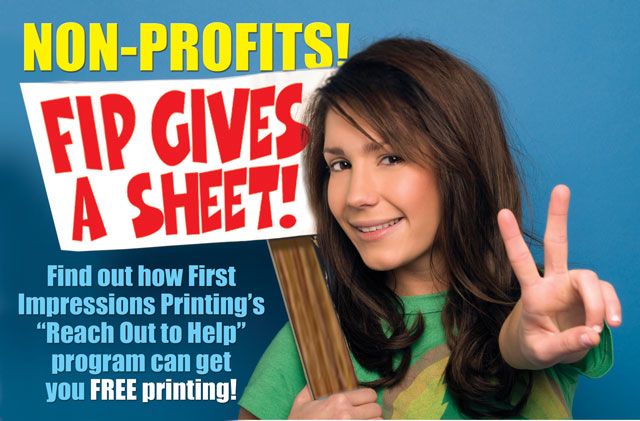 In support of our community, First Impressions Printing will be sponsoring local charities and non-profits by providing them with free printing services. We would like to say thank you and give back to our local community. If you or someone you know is involved with a non-profit or charitable organization within the Ocala or Marion County area, sign up today! We will be giving away 1,000, full-color postcards or flyers to any qualifying group. "Like" our Facebook page and send us your information here.
How it works:
Your organization must be a 501(C)3 non-profit group. 
You must have a direct and positive impact on Ocala or Marion County.
Like our Facebook page and submit your artwork and information on our website.
The printed piece must be promoting your organization or a related event.
Print ready artwork must be provided.
What You Get!
1,000 full-color two-sided, 8 1/2" x 5 1/2" postcards printed on 100# white gloss cover.
 

or

1,000 full-color one-sided, 8 1/2" x 11" fliers printed on 80# white gloss text.
*With print ready artwork provided, paper stocks may vary.