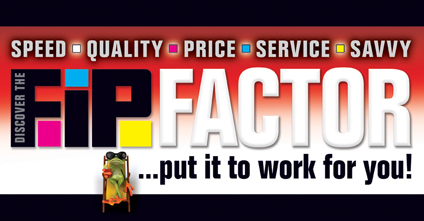 Speed: We've earned quite a reputation for being fast. We weren't even aware of it until we heard our clients tell us that we hit deadlines other printers won't even try!
Quality: Only the customer can define quality. If we can't make every job better than our client expects, we won't let it out the door.
Price: When it comes to getting a measurable return on investment, print is still one of the most effective marketing tools and our competitive pricing assures real value!
Service: FIP offers direct access to a highly skilled team of experts for each client on every project. Our motto is to provide our customers with "service they didn't expect."
Savvy: At FIP, quality printing is just the beginning! What makes FIP different is our savvy. Decades of experience in marketing, advertising and public relations has helped our clients both weather hard times and thrive in good ones.